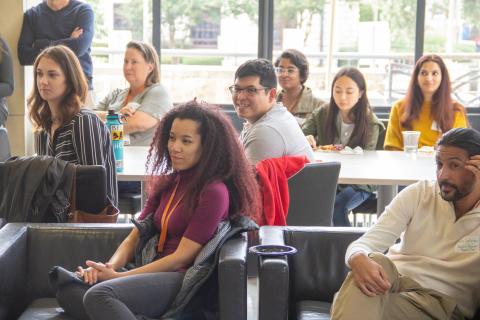 The Graduate School is committed to enhancing diversity and equality in the graduate student experience at The University of Texas at Austin. We believe that a diverse and inclusive educational environment enriches the education of all students and enables us to leverage the rich perspectives, experiences and talents of the full spectrum of groups in our society. 
We welcome all groups and seek to be fully inclusive with respect to all forms of diversity—including race, ethnicity, gender, sexual orientation, socioeconomic status, geographic origin and others.
The Graduate School's commitment is backed by motivated faculty members, dedicated administrative resources and a welcoming community of students, scholars, artists and researchers. 
We address issues of diversity, inclusion, and representation through ongoing dialog with students and faculty members, partnerships with minority serving institutions, recruitment of faculty and students, and financial support and fellowships for students from a diverse array of backgrounds.
As The University of Texas at Austin strives to meet its mission of unlocking potential and preparing future leaders of the state, it embraces diversity in many forms. The university is dedicated to attracting highly-qualified students, faculty and staff with a wide range of backgrounds, ideas and viewpoints. This includes those from all races and ethnicities; first-generation college students; women; and others who have been historically underrepresented on campus.
As a university with a past history of denying equitable access to qualified students, UT recognizes the profound benefits of creating an inclusive environment in which students can learn from one another. All students are better prepared to succeed in an increasingly diverse state and interconnected society when they receive the educational benefits of learning on a diverse campus.
The Graduate School By The Numbers
Data provided by the Graduate School. Does not include the Law School or Dell Medical School 
Campus Diversity Resources