To be considered for graduate admission to The University of Texas at Austin, you must meet both the minimum requirements set by the Graduate School and the requirements of the individual graduate program to which you are applying. Often, the program's requirements are more rigorous than those set by the Graduate School.
Each program sets its own deadlines and requires the submission of additional materials. These materials vary by program, but may include letters of reference, auditions, work samples and personal statements. Information about required materials is available from the admission coordinator of each program.
Eligibility for Admission Consideration
To be eligible for admission consideration, applicants must meet the Graduate School's minimum requirements.
Bachelor's Degree or Comparable Foreign Degree

The Graduate School requires applicants to have earned a bachelor's degree from a regionally accredited institution in the United States or a comparable degree from a foreign academic institution.
3.0 GPA

A grade-point average (GPA) of at least 3.0 (on a 4.0 scale) or a comparable GPA in upper-division work—junior- and senior-level courses—and in any graduate work already completed is also required. If your GPA does not meet the minimum requirement—or if you feel that your GPA is not a valid indicator of your ability—you may submit an application, then use the Document Upload System to add a letter explaining your concerns.
Official Test Scores (GRE, GMAT, TOEFL, IELTS)

Check with the program to which you are applying to see which test you should take. International applicants must take either the TOEFL or the Academic Examination of the International English Language Testing System (IELTS).
Adequate Preparation

Your records must reflect adequate subject preparation for your proposed graduate major. Check with the program to which you are applying if you have questions about pre-requisite coursework.
Additional Program Requirements

Individual graduate programs may have more rigorous requirements and may require additional materials. Check with the program to ensure you're able to meet its requirements and deadlines.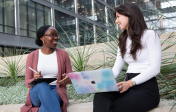 UT Austin offers 83 doctoral programs and 125 master's programs. Tell us about yourself, and we will connect you with your program of interest.
Visit the website of the graduate program that interests you to learn more about it, from requirements and deadlines to coursework and career outcomes.
Each year, the Graduate School publishes statistics detailing the number of students who apply to, are admitted to and enroll in its programs for the summer and fall semesters.
Graduate students at The University of Texas at Austin find its cost of attendance—the sum of tuition, fees and other expenses such as room and board, transportation, and books—compares favorably to that of many peer universities.
The cost of living in Austin is less than in many major cities. Learn more by visiting the cost of living calculator.
International Student and Scholar Services offers scholarships and financial services specifically for students coming to the United States from other countries.